Rose our MD has been visiting Africa as the borders have been opening up, often being the first guest in many of the camps. Take a look at many of our social media pages which have quite a few videos on camp protocols; what travelling internationally has been like as well as stunning wildlife seen by Rose.  With borders opening up throughout the world and especially in Africa, we thought we would take you through a step by step itinerary of what you are likely to expect when you arrive into Africa.
We will begin with Kenya as first port of call and destination. On arrival at London Heathrow (for example) you will be expected to start wearing your face mask as soon as you enter the airport and, apart from when you have something to eat or drink, you will not be removing this until you exit Nairobi Airport. There is hand sanitizer everywhere and you will also notice, every member of staff from the cleaners to the check desk's, will all be wearing masks and gloves. Once on board the plane, as mentioned, you will continue to keep your mask on, only removing this when food and/or drinks are served. The airline stewards will also be wearing facemasks throughout the flight and hand sanitizers are readily available. Before you travel to Africa, you are required by law to carry a negative test certificate, proving you do not have the virus. So even before you board your plane you can be safe in the knowledge that everyone else on your flight will only be allowed to board the plane with a negative COVID test.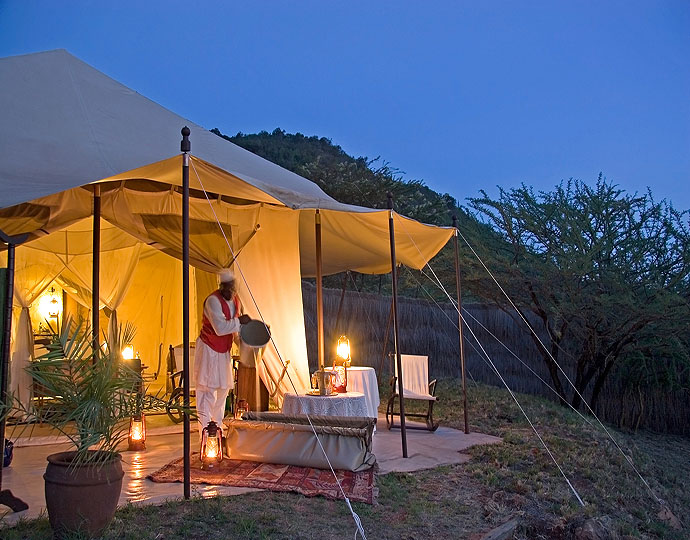 Once you land into Nairobi JKIA, you will not be allowed to stand up and gather your luggage, instead you will be invited to disembark row by row and remain seated until it is your turn to move. Once off the plane, masks still on, you will be required to socially distance through customs – when travelling with The Luxury Safari Company, once you disembark, you will be met by one of our superb representatives who will assist you and fast track you through the visa process. You will then meet your private chauffeur who will, depending on what you have planned for your trip and what time your international flight lands, transfer you by road to your hotel, or to Nairobi Wilson (Nairobi's domestic airport). Say you will be travelling straight from JKIA to Nairobi Wilson – once you arrive at Nairobi Wilson, you will have to adhere to the strict social distancing rules as well as wearing your mask at all times. All the staff in the domestic airport will be wearing masks and hand sanitiser will be readily available everywhere. You can also rest assure that all people travelling from the domestic airport will have to carry their negative covid certificate as well. Once on board, you will still have to wear your mask, the pilots will also be wearing masks. Alternatively we can charter a private plane for you from Nairobi JKIA, so you will not have to come into close contact with fellow travellers at all – this is very easy to do and your flight will also be memorable as the pilots will take you the scenic routes – so you can see parts of Kenya no one else on the scheduled flights will be able to see!
On landing into the Mara airstrip for example, you will be met by your safari guide, who will be wearing a protective face mask – here is where you can remove yours if you feel comfortable. The guides and all of the staff in the camps have all been quarantining within the camps and undergo daily testing to ensure they are well on top of preventing any symptoms of infection. There are hand sanitizers everywhere as well and as mentioned, all of the staff will be wearing face masks. Although we are not medically educated, we follow and listen to all of the updated advice from governments and the scientists, which say there is little to no proof that the spread of Covid is increased when outside – it is in actual fact the opposite. When you are on safari, you will be outside pretty much the entire time you are there or are in close contact with people and the spread of Covid-19 is very low when outside.
The majority of the camps we work alongside with are all very small and boutique with no more than 15 guests at one time. Each of these camps are very aware of everything being much more exclusive than they already are, so instead of the communal dining that a lot of camps have previously done, dining will be very private and within your rooms, or socially distanced in the main mess areas. Each of the game drives you embark on will have no more than 4 people per vehicle, so as to keep within the realms of social distancing and remove as much contact as possible. Alternatively, we can book you your own private vehicle and guide so as to ensure you have no contact with anyone else during your stay.
Did we mention the incredible wildlife sightings you will undoubtedly see?!
We hope that these itineraries will make you feel more at ease about travelling to Africa. Rose our MD has had firsthand experiences in both Kenya & Tanzania and is incredibly impressed about how well Africa has responded to this pandemic, ensuring you will feel safe when travelling towards your safari. If you would like to speak to any of our experts in more detail about travelling and the things you are likely to encounter on your travels to Africa, then please do not hesitate to call us or send us through an email and our team will respond almost immediately.