Let's talk about the Masai Mara. Its huge, it's amazing and it is full of the most wonderful wildlife viewing opportunities throughout Africa. For the next couple of blogs, we are going to focus on some of the smaller camps, in private concessions throughout this stunning reserve. Although we say private concessions, some may think we are taking you away from the main hustle and bustle of wildlife action you will find in the National Park – quite the opposite. The main National Park can be victim of huge crowds, lots of cars and self-drives which can hinder your once in a lifetime trip, and the animals seem to need a break from the hectic feel it can sometime have. So, they seek refuge in these private conservancies just outside the main National Park, and because they are private, guests who stay within them will barely come across a single other vehicle or self-drive, because they simply aren't allowed in. This will make your wildlife viewing experience much more unique, as you know there will be no one else around and the animals are at ease as well.
We will start with one of camps in the Southern part of the Masai Mara, almost on the border with Tanzania – Cottar's 1920's Safari Camp. This 'step back in time' luxury camp started way back in 1919, when the first explorers started venturing to Africa. Nearly 90 years, Cottar's Camp continue to provide an unparalleled safari experience to discerning clients in Africa. Extending an era of luxury and quality, guests return to the original spirit and essence of 'safari', reminiscent of a golden era – an era of romance, professional guiding, adventure, and elegance.
Situated in the Masai Mara, in an untouched exclusive concession bordering the Serengeti and Loliondo reserves, the area guarantees privacy and an abundance of wildlife. The camp accommodates up to 22 guests in authentic white canvas tents, which are spacious and luxuriously furnished with original safari antiques from the 1920's. As Cottar's 1920's camp is based in its own private concession you really do as you like each day, but the main highlights are day and night game drives, guided bush walks, bush meals, sundowners, cultural visits, fishing, spring fed swimming pool and massages. Cottar's community development schemes and eco-preservation projects include successful construction of a school and financing teachers wages, supplying two local clinics with medical provisions as well as much more.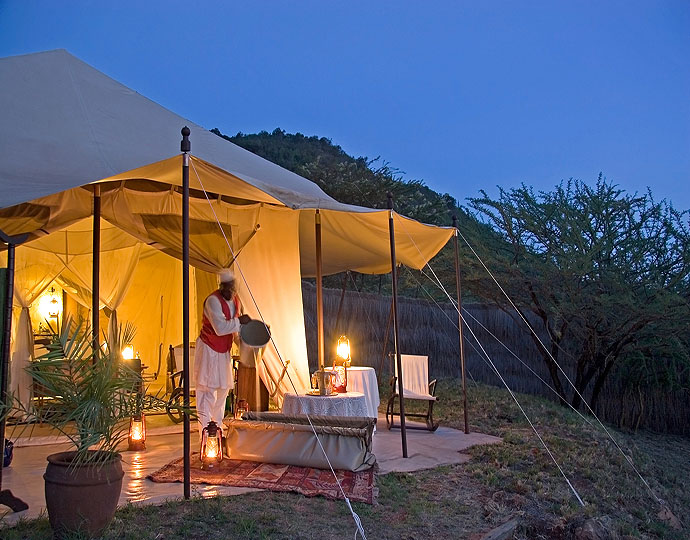 If you want something more adventurous, Cottar's now has their very own Cottar's Conservation Camp. With 7 tented suites, small en-suites, bucket showers and long drop loos (!) it has a wonderfully authentic style and is a place you can immerse yourself within the local heritage and culture. Activities you can enjoy within this camp are morning and evening game drives both in and around the Masai Mara reserve and their Olderkesi Conservancy. Spend a few hours with the Letilet/Il Torobo hunter gatherer tribes where you can learn the traditions and techniques of a proper hunter gatherer. Lunch with Conservationists who will pass on knowledge of what they are doing to help protect the area, wildlife, and local ecosystems for the next generation. Enjoy a bush walk (up to 3 hours very steady walking – we promise it's not a ruthless hike!) over the Olentoroto Hill to Cottar's 1920's Camp for some lunch – the walks allow you to truly enjoy the surrounding area and get that bit closer to nature and its surroundings. And finally, if you want to keep your fitness up, then perhaps try and out run a Masai Warrior…?!